While reading this, more than one of you probably have a smartwatch on your wrist to control your WhatsApp messages, or perhaps you're wearing AirPods that are linked to your mobile as you listen to your favourite podcast. Indeed, wearables are here to stay, and statistics prove so. A study performed by the International Data Corporation (IDC) confirms that there's to be an expected 18.4% annual increase in wearables in the next three years.
We currently have endless possibilities, from more inexpensive devices for users who don't perform any physical activities to devices with more features for sportspeople, which allow them to monitor all aspects of their performance. In this article we'll define wearables and go over how they are integrated into mobile marketing strategies.
What are wearables?
Wearables are electronic devices that adapt to some part of the human body and continuously interact with the users and other devices. We're talking about smartwatches, fitness trackers, cordless headphones, or even a pair of trainers with a GPS.
The strong point for these devices is that, aside from controlling our physical activity (how many hours we sleep, the quality of our sleep, how many kilometres we walk, etc.), they perfectly pair up with other devices, such as mobile phones. This way, all our activity is recorded in that device.
How are wearables integrated into mobile marketing?
The appearance of technological devices and their continuous improvements offer great opportunities for mobile marketing strategies. Remember: just like with smartphones, wearables are something that we constantly carry, and they collect a large amount of information in real time. Below, we mention some of the ways we can make the most out of this technology:
Personalisation: wearables allow us to adapt the segmentation and personalisation to each particular user, as we know what type of activity the user performs at all times, where the user performs it, etc. These devices don't stop collecting data on users. Information is power, so we won't just be able to create more personalised and less intrusive adverts, but we'll also be able to send them at the right time.
Synchronisation with social networks: wearables such as smartwatches allow us to synch the devices with Facebook, WhatsApp, etc. This information will be relevant to later create mobile marketing strategies.
Micro-moments:micro-moments are all those minutes the user spends using the mobile device to check information in order to solve a problem. Incorporating wearables into daily life means we will have to pay more attention to these devices with relation to micro-moments and, consequently, with any digital marketing strategy.
Mobile payments:just like payment technology through mobiles has been introduced so we can do without a credit card, wearables are also appearing in the market with a clear advantage: they're part of our body. Mobile marketing should adapt to this new trend.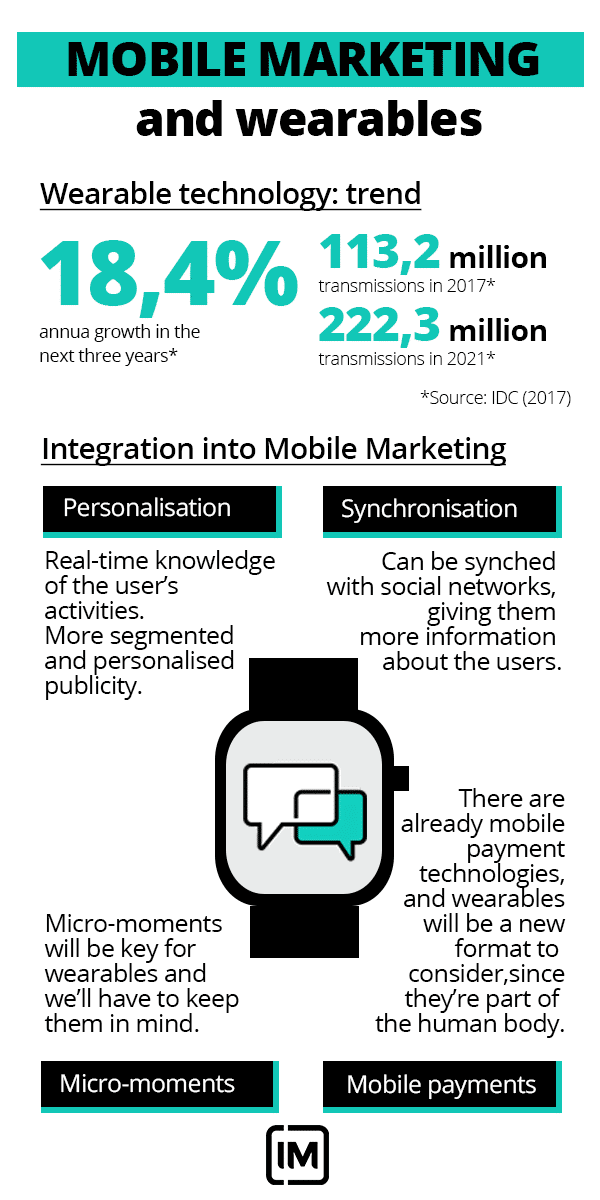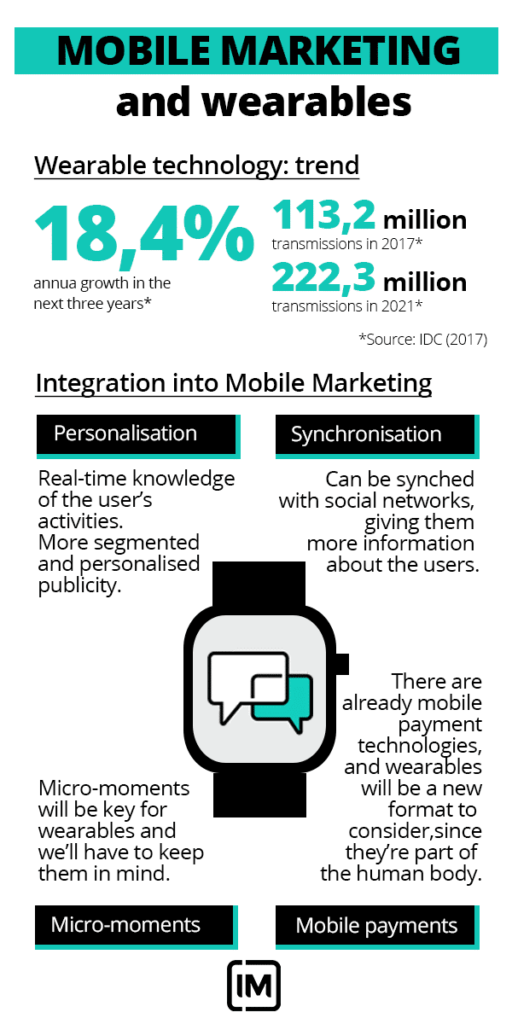 Although there's still a long way to go, the possibilities this technology offers can be very beneficial for digital marketing. If you want to advance and learn how to create mobile marketing strategies to stay ahead of current trends, we recommend our Course in Mobile Marketing and Digital Trends.
Follow us, share, or give us a like: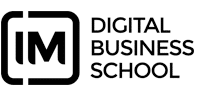 Formamos marketers digitales de alto rendimiento a través de una metodología que une capacitación en competencias técnicas con capacitación en habilidades de performance multiplicando resultados.