The digital environment is always changing and with it, the way we need to prepare ourselves to endure the digital transformation of our companies. First it was de SEO and Social Media, but now there is a whole bunch of new areas we need to pay attention to and have knowledge of, if we want to drive our teams in the right direction and make sure we have all the resources we need to be on top of it.
So whether we want to make the most of our own project or make sure our team has all the resources they need to jump into the digital transformation, receiving some training it's a must to assure success.
In Internacional de Marketing we have crafted three different courses that cover the main areas which directors and managers of digitalized companies and entrepreneurs must master. Those are:
Course in Online Reputation for companies (ORM)
We all know the importance of online reputation. It highly influences potential clients' decision making as they are always craving for opinions to reassure they are making the right choice.  So that's why for companies is really important to make sure they know how to manage it and act on time to solve any possible issue regarding that. In this course you will learn to design action protocols, design the companies' guidelines, check how are you communicating in every channel and acquire techniques to avoid reputation crisis.
Course in Digital Projects' Management  
If you are an entrepreneur who has a great idea, this is the right course for you, as you will learn to build a digital project from scratch and learn how to manage all the tools needed. Also you will master highly efficient managing methods through practice and investigation.
If you already have a company or are in charge of its digital transformation, this is also the best asset for you. After doing this course, you will become a Project Manager with the essential knowledge to carry on any enterprise in the digital sector.
Course in Digital Strategy's Decision Making
Every business who wants to succeed needs to have a consistent basis and this nowadays means to have a solid strategy. This will allow you to make sure everyone involved in the company makes the right decisions by following the methodology needed regarding decision making, so everyone goes in the same direction to achieve the companies' goals. In this course you will learn to handpick and use data as the main fact to make decisions, master techniques to introduce problems and present goals to start a decision making process, make an accurate diagnosis of the business' needs, know how to apply the results of decisions and measure results, develop team management techniques and know how to drive innovation to your company.
With these courses, of three months' duration each, you'll be able to highly improve the reputation, development and strategy of your company.
Get your digital projects up to speed and make sure you are digital-transformation ready.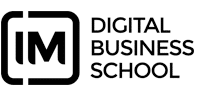 Formamos marketers digitales de alto rendimiento a través de una metodología que une capacitación en competencias técnicas con capacitación en habilidades de performance multiplicando resultados.